Aloe Vera skin gel - Natural (200 ml) without aromas
EUR 15,00
incl. 20 % VAT excl. shipping costs
Product.Nr. 12020
weight 0,40 KG
Aloe Vera skin gel - Natural (200 ml) without aromas
to 99% from the Aloe Vera leaf juice

Quantity: 200 ml

Aloe Vera fresh plant gel - without aroma

The skin gel gives your skin the necessary support to recover and regenerate. It protects and cares for your skin.

Recommended use:
Especially for over-stimulated skin, insect bites or sunburn. Also suitable for cosmetic care by neurodermatitis or psoriasis of damaged skin or for cell renewal in light abrasions.


Content:
Aloe barbadensis 99%, xanthan gum, sodium benzoate, potassium sorbat, citric acid.
file
file size
0.39 MB
Customers also bought
Aloe Vera Ginseng - herbal tea (100 g)
EUR 3,50
incl. 20 % VATexcl. shipping costs
Aloe Vera skin gel with Jojoba (200 ml)
EUR 17,00
incl. 20 % VATexcl. shipping costs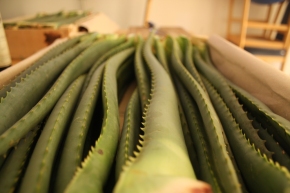 Aloe Vera - arborescens fresh leaves
EUR 15,00
incl. 20 % VATexcl. shipping costs