Noni juice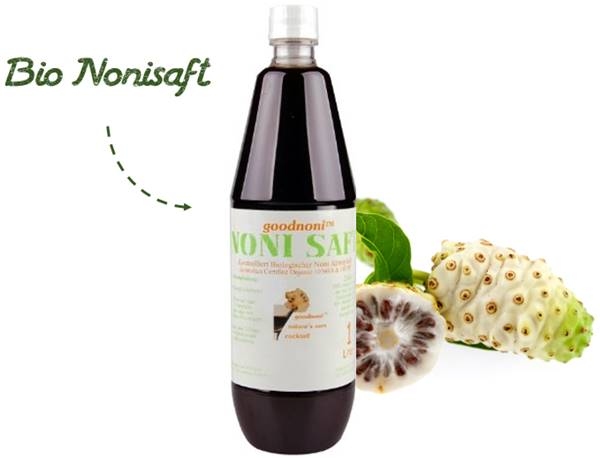 Noni - the fruit
The nonifruit is also known under the name "Kura" on the Fiji Islands for over 2000 years and is used there as a home remedy (for everything). The nonibaum (Morinda citrifolia) itself grows only under tropical conditions and can be found in the tropical South Sea (including Northern Australia) but not in New Zealand, since there are significantly colder temperatures.
In Fiji you can almost find a nonibaum in every garden. The use of Noni is firmly embedded in the everyday life of the people, whereby the family recipe is passed on from generation to generation. Noni is used for small and large events, injuries and wounds.
The nonis juice itself is considered as a stimulant and strengthening agent and is intended to support the restoration of energy and tension.
Due to the natural nature of the rainforests and the clean environment on the Fiji Islands, the quality of the noni juice is extremely high.
Noni juice
The preparation of the juice is produced according to the draining method customary in the South Sea. The well-cleaned non-fruits are stored in stainless steel containers for post-ripening, whereby these become very soft and the inside of the fruit turns into juice. As a result, the fruit opens after about six to eight weeks, which causes the nonis juice to escape and accumulate at the bottom of the container. The resulting juice contains hardly any fruit stain, is dark brown and has a fruity and strong taste. In order to avoid insects or even mold formation during production, particular care is taken with regard to hygiene in the containers. Mold formation is naturally prevented in order to prevent the formation of harmful mycotoxins. Furthermore, no fermentation can take place, otherwise the nonis juice would become noni-wine, which of course can not occur with a fruit juice. Production of noni juice
In order to produce a high-quality noni juice, the fruits are taken directly from the local workers or collectors. It is to be noted that no plantage is used, but only fruit from "wild" noni trees, in order to keep the quality as high as possible. The fruits are then washed and sifted several times. In order to obtain nonis juice, the fruits must be stored for subsequent ripening. For this purpose the noni fruits are stored in large stainless steel containers with a capacity of up to 1500 kg. An airtight lid keeps the ripening fruits clean and free from vermin. Quality controls are always carried out during the entire storage. The pressing is carried out after about 6 weeks. For this, normal wine presses from Germany are used. After the pressing, the filtering is carried out as well as an immediate pasteurization (heat preservation).
The nonis juice is then filled into new 1 liter PET bottles, directly in the factory. After the filling process, each bottle is carefully polished with the label and wrapped in a protective cover.